Fayetteville International
Folk Dancers
International Folk Dancers share a love for the dances of many nations. The Fayetteville International Folk Dancers, or FIFD, is a recreational dance group open to all ages but recommended for ages 12 and up. No partner or previous experience is required. Dress is casual. Comfortable, non-marking shoes are recommended. Please join us each Tuesday evening 5:30-9:00 as we explore the world around us and enjoy the phenomenal variety of music and dance. Your first visit is free.
Teaching is done throughout the evening, along with dancing from requests. Dances taught may be at any level – easy, intermediate, or advanced. Dancing behind the line or circle is also a great way to learn a dance that interests you – learn the name of a dance or dances you like and request that they be taught in the future. Those who return beyond their first session will find repetition of dances previously learned makes them easier to do. Soon you will have your favorites and may want to add those to our request list.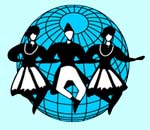 Anoush International
Dance Troupe
Anoush is currently an inactive component of FIFD. Please click here for archival information and photos.